HVAC Cleaning Services
Klean King Furnace & Duct Cleaning
Furnace & Duct Cleaning Services
The Training, Tools & Experience
Experienced technicians. State of the Art Equipment. Award-winning process.
Klean King offers industry-leading furnace, duct and dryer vent cleaning services. Servicing both residential and commercial clients.
The Klean King process ensures a complete and thorough furnace cleaning. We clean all the critical components in your heating and cooling system.
Our certified, trained technicians will clean your furnace, ductwork, and vents.
We can safely and properly clean your entire system.
Cleaning the Air you Breathe.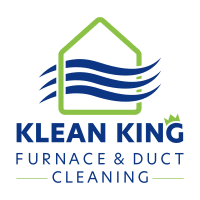 Our Award Winning Furnace Cleaning Process
Broken down into four simple steps
Pre-check Inspection
Upon arrival at your home or business, we will review and inspect. This will include counting the number of vents/registers and determining which HVAC equipment is in the home or business.
We will ask or determine if the home has pets. Including dogs, cats or birds. Klean King does have a particular process to follow if the home has pets.
We will ask if anyone in the home has respiratory conditions? Such as COPD, Asthma or Allergies. If the answer is yes, Klean King can conduct an air-quality test before and after our cleaning. This air test can help identify any other issues that may exist that might not be related to your home heating and cooling systems.
Determine the best path for our equipment to be brought into the home or building. This will help determine where our vacuum truck will be placed and which access points to use for our hoses.
Our techs will also review the main ductwork on the furnace to see if there are previous access panels in the ductwork. If there are, we can use them, if there aren't any access panels, the technicians will need to make their own.
HVAC System Analysis. Our technicians will identify all of the HVAC equipment in the home or building. To determine which items  may require cleaning, These items included:
Furnace(s)
Air Conditioning units
The number of heating and cooling vents
The number of dryer vents
Air Exchanger(s) (HRV)
Pet-friendly Furnace & Ductwork Cleaning
Klean King Furnace & Duct Cleaning has a special process set up to make your pets as comfortable as possible.
We always start by cleaning the ducts from one room. Then once we are finished in this room, we seal up any vents in that room so your pets can be moved to the room while we complete the cleaning.
We have found this significantly reduces the stress on both you and your pet(s). It also ensures your pet doesn't get out of the house as we continue to clean your furnace and ductwork.
Worksite Preparation
Klean King Furnace & Duct Cleaning cares about cleanliness. There is no point in having us clean your furnace and ductwork if we are going to leave a mess in your home or office.
Our technicians start by installing plastic sheeting to protect your floors. They also set up protective guards on your walls and corners.  During the winter months, we also install door covers to minimize heat loss and prevent the elements from coming in.
In order to clean the duct system, all vents and duct openings are sealed. If your furnace or ductwork has not been cleaned before, we may need to cut two access points in the main ductwork. This provides access for the cleaning equipment. Once the cleaning is completed, these access points are properly sealed and can be used each time we clean your furnace.
Cleaning of the Furnace, Ductwork and Vents
Duct & Vent Cleaning Process
Klean King Furnace & Duct Cleaning technicians will connect the specialized equipment to your Heating, Cooling and Air Conditioning (HVAC) systems. Which are connected to our vacuum truck. The high-powered vacuum will capture all of the dust, debris and other contaminants out of the ductwork.
While connected, the Klean King technicians insert an agitation device (known as a Skipper) through each vent in your home or office. Including all hot and cool air vents and returns.
With the vents now clean, the technicians will then insert a scrubbing device (known as a Scorpion) throughout the main ductwork. This device will scrub the four internal sides of the ductwork. Sending all debris through the vacuum hose out to the truck.
Cleaning the Furnace
Once the vents and ducts are cleaned, the Klean King technicians will clean the furnace. Including the burners, heat exchanger, fan motor and the cavity of the furnace itself.
Cleaning the Air Conditioning Unit
If your home or office has a central air conditioning unit, we can clean the "A" coil. This is the portion of the air condition system in the ductwork above the furnace.
Cleaning the Dryer Vent
In 2017 there were over 16,000 clothes-dryer fires in Canada. Cleaning your dryer vent every year is vital.
The dryer lint is very flammable. It builds up in the vent hose. The trained technicians with Klean King will inspect the dryer vent hose. To make sure it is not kinked or compromised. If it is safe, it will then be cleaned from both the inside and through the outside vent.
Ait Exchanger Cleaning
If your home is equipped with an air exchanger, Klean King will also clean it.
An air exchanger is part of modern heating systems. It is used when heating the home by recovering heat from the outgoing air leaving your home. It then uses it to preheat the incoming (fresh) outdoor air
Post-Cleaning Inspection
Once Klean King is finished cleaning your furnace, vents and ductwork. We remove all seals we placed on vents. Close up any ductwork and re-assemble any system components we took apart to clean.
Klean King technicians will then conduct a test on your HVAC system to make sure it is in working order before we leave.
Then as we work our way out of your home or building, we remove all of the protective systems we added on floors and walls.
We are only finished when we have completed our inspections and when you are 100% satisfied with our cleaning procedures.
If you own a home or business with an HVAC System, it should be cleaned regularly to improve air quality and extend the life of the system. Established in 1984. Klean King Furnace & Duct Cleaning is one of Regina's oldest furnace and duct cleaning companies.
Proudly serving Regina and surrounding communities for over 35 years.
Regina Furnace Cleaning
We can clean:
Your Furnace
All Duct Work
Floor Registers
Cold Air Return Grills
Air Filtration Systems
Dryer Vents