About Klean King Furnace & Duct Cleaning
Cleaning Furnaces, Ducts, Dry Vents, Air Filtration Systems
Klean King Furnace & Duct Cleaning
Providing professional furnace cleaning services
For residential, commercial and industrial customers
Klean King is proud to be one of Regina's most experienced furnace and duct cleaning companies. With over 35 years of experience. Our trained technicians will clean the HVAC systems in your home or business. Leaving your home, office or business with clean air for all occupants.
Ensuring customers' homes (and workspaces) are as healthy and safe as possible. Is still one of the driving forces at Klean King today
Utilizing new technologies, such as air testing equipment. To measure how much dust and contaminants are in the air. Both before and after a furnace cleaning. Places Klean King at the leading edge of their industry.
It also provides families with more peace of mind knowing that the air they are breathing is both clean and safe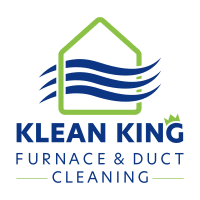 At KleanKing pride ourselves in providing the latest technology available to our customers.
Air Duct cleaners all over the world agree that the "scrubbing" method is one of the most revolutionary duct cleaning methods around. KleanKing provides this "scrubbing" method using our Skipper and Scorpion systems.
Your HVAC system will be placed under negative pressure using one of our high-powered vacuum trucks, which produces 16,000 CFM (cubic feet per minute) @21 inches static pressure (the amount of lift).
This places your ductwork under extreme suction. The onboard compressor provides 250 psi at 23.5 CFM compressed air continuously, which is used in the cleaning process.
Using air pressure, the dust and debris are loosened and suctioned out to our truck. A specially made rubber whip is then inserted into each individual duct and rapidly sweeps around the ductwork interior scrubbing all the fine dust into the suction.
The benefit of these systems versus a traditional rotary brush system is that they will not damage the insulation within the ducts, but will allow for a scrubbing technique that will remove all the contaminants from the insulation.
Meet the Klean King Team
Cleaning the air you breathe since 1984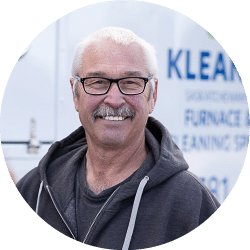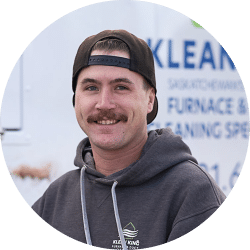 Richard Grant
Senior Technician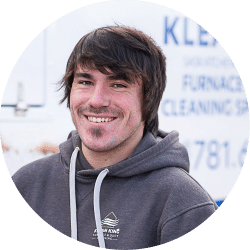 Kirklin Gavernoski
Air Quality Specialist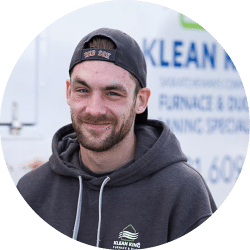 Jake Duquette
Air Quality Specialist
If you own a home or business with an HVAC System, it should be cleaned regularly to improve air quality and extend the life of the system. Established in 1984. Klean King Furnace & Duct Cleaning is one of Regina's oldest furnace and duct cleaning companies.
Proudly serving Regina and surrounding communities for over 35 years.
Regina Furnace Cleaning
We can clean:
Your Furnace
All Duct Work
Floor Registers
Cold Air Return Grills
Air Filtration Systems
Dryer Vents