Frequently Asked Questions
Regina Furnace Cleaning
Furnace Cleaning Questions?
We have answers
Cleaning the Air You Breathe
How much does it cost to clean a furnace and ductwork?
Furnace and duct cleaning is not a one-size-fits-all solution.
Cleaning an entire HVAC system in an average-sized home can range in cost from $250 to $350. There are several factors that affect the cost.
For instance, air duct cleaning for an 11,000-square-foot home, with three HVAC systems will cost quite a bit more. Then a 2,000 square-foot home with a single unit.
Please use our Furnace & Ductwork Instant Estimate for a quick price. The more details you provide, the more accurate the quote will be.
How often should the furnace and ducts be cleaned?
The frequency of cleaning is recommended every two years but will depend on several factors, not the least of which is the preference of the homeowner. Some factors that affect how often a cleaning is done include:
Smokers in the household
Pets that shed high amounts of hair and dander
Residents with allergies or asthma
Excessive carpeting/ older carpeting
Are there any health benefits that come from cleaning my furnace and ducts?
Your furnace and air ducts have been shown to act as a collection source for a variety of contaminants that have the potential to affect health, such as mold, fungi, bacteria, and very small particles of dust and debris. The removal of such contaminants from the heating system and home should be considered as one component in an overall plan to improve indoor air quality.
Will Furnace and duct cleaning reduce our home energy bills?
Research has demonstrated that furnace and duct cleaning will systems to run more efficiently by removing debris from sensitive mechanical components. Clean, efficient systems are less likely to break down, have a longer life span, and generally operate more effectively that dirty system. It can reduce your energy bill by 10% – 15%.
Is KleanKing a member of QUADCA?
Yes, we are, in fact, we are currently the only Regina-based duct cleaning company that is a member of QUADCA.
What forms of payment do you take?
We accept credit cards (VISA and MasterCard), cash, cheques and debit cards
Will cleaning our furnace and duct work eliminate dust in our home?
Cleaning the furnace and ductwork is only one component that affects your air quality. Proper cleaning will significantly reduce the amount of dust that is being recycled by the furnace.
It is important to remove or clean the sources of dust existing in your home regularly so that this dust and debris is not drawn into the duct system by the furnace.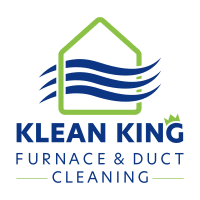 Established in 1984. Klean King Furnace & Duct Cleaning is one of Regina's oldest furnace and duct cleaning companies.
Proudly serving Regina and surrounding communities for over 35 years.
Regina Furnace Cleaning
We can clean:
Your Furnace
All Duct Work
Floor Registers
Cold Air Return Grills
Air Filtration Systems
Dryer Vents